Traveling to Phuket, Thailand solo was probably one of the scariest things I've ever done. It was my 1st solo trip internationally and my 1st time to any part of Asia. My intentions weren't to go alone but one by one, my group of fellow travelers slowly began dropping off, and I was the last Wo(MAN) standing. I had almost two weeks of vacation to use and there was no backing out for me. I was going!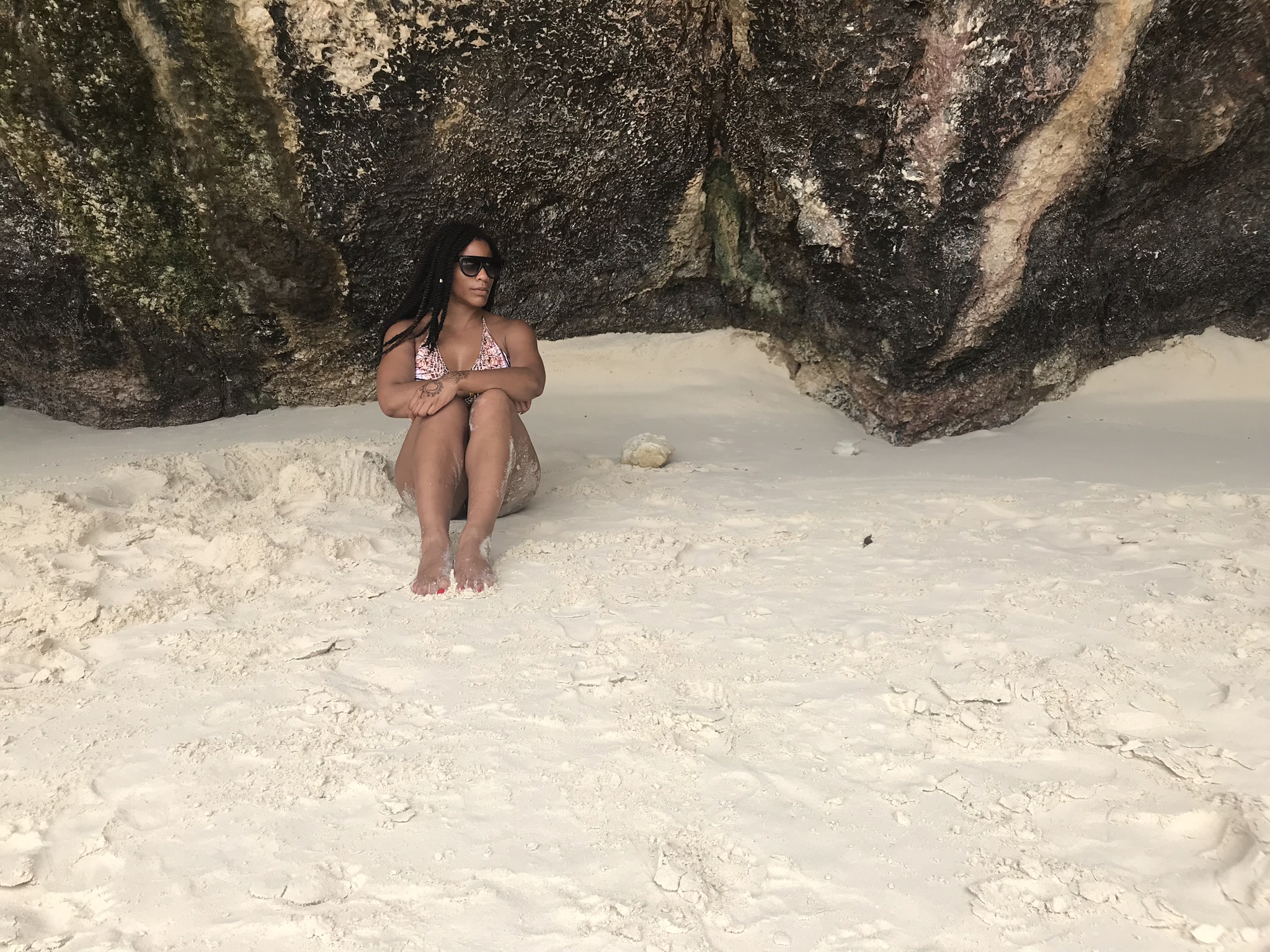 I'm apart of many travel groups and Thailand was a constant topic of conversation. I decided it was finally my time to get out to the land of amazing food and island hopping and see what the fuss was about.
Planning was easy! I flew China Southern round trip out of LAX for a very cheap flight. ($385). My return flight had a lengthy layover over so I took advantage of the 24 hour visa, free hotel room provided by the China Southern.
Booking the hotel proved to be a little bit more challenging simply because there were so many hotels to choose from. Being a budget traveler, I usually split accommodations with others to make it more affordable. Since I was staying alone, I needed a reasonable hotel that was safe and close to the action. I googled "hotels in Patong beach with Infinity pools". #3 on a top 10 best hotels list was the Patong Mansion hotel. $40 a night, free breakfast, infinity rooftop pool and close to the action! I booked immediately for 8 days. Sweet. Hotel booked.
A couple of days before I was having major anxiety about going so far… alone!  A Facebook friend suggested I join a travel group for female travelers. I did and I was able to meet a young lady with my same travel dates, staying relatively close to my hotel. I was able to relax a little bit. I thought, "Great!! I'll know someone at least!"
The flight was a LONG 16 hours. I downloaded a bunch of shows on Netflix and kept myself entertained for most of the flight. I tried to keep myself hydrated, I got plenty of sleep and wore the best compression socks amazon had to offer. No booze for me on this flight. (I learned my lesson after flying to Fiji and partying too much with friends before and during the flight.)
I landed at midnight so I prearranged transportation through Viator. (Viator is an app that allows you to book excursions and transportation at a discount).  I didn't want to deal with trying to find a ride, late at night, in a foreign country. I walked out of the airport and was greeted by perfect weather,  (December it was 80-85 degrees every day. In Chicago, it was in the single digits) and my driver holding a sign with name on it! (Oh snap! She's fancy!!)
The hour long right felt like half of that as I took in the scenic route to my hotel. Much different than any other place I had been to. The hotel front desk staff were pleasant and wide awake at 1am as I checked into my hotel. They spoke perfect English and I received the warmest welcome. My room was cute, but the beds were Hard. (Bummer) However, I still made the most of it. I was barely in my room.
The next day I was ready to hit the ground running. I did excursion after excursion. I ate SO much delicious food and I shopped for some amazing clothing and trinkets. Everything in Thailand is CHEAP. I got gorgeous kimono robes,  a beautiful wooden umbrella and I also picked up some electronics. (Little stuff to help documenting my travels experiences worth it.)
I got $8 massages and made my way to the beach daily to watch the sunset. I had an amazing cooking class and much much more.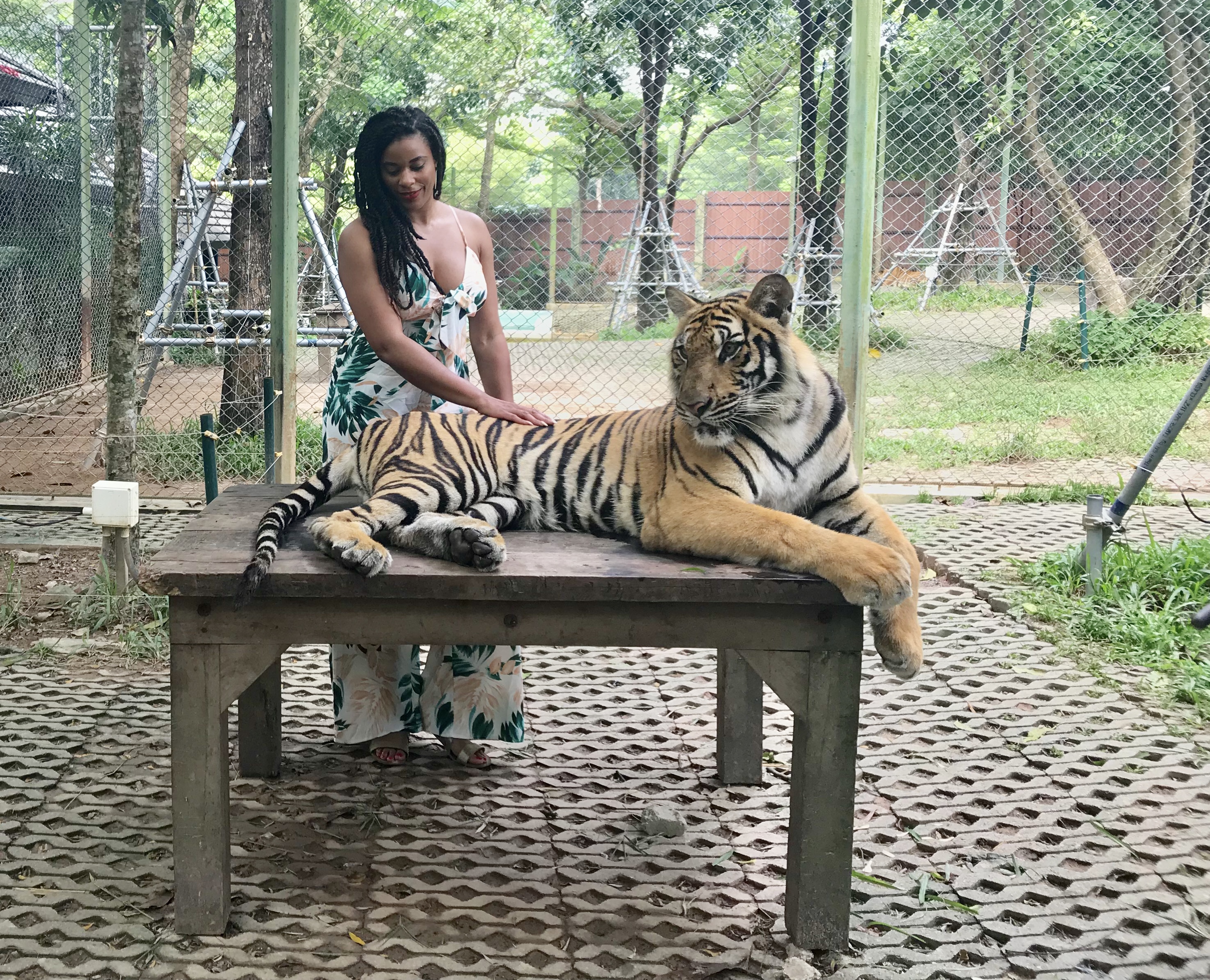 Here's a list of what I highly recommend doing in Thailand:
1. Tiger Kingdom
2. Island hop:Phi Phi islands, Maya Bay, Khai island, Viking Cave, Monkey beach
3. Kata Thai cooking class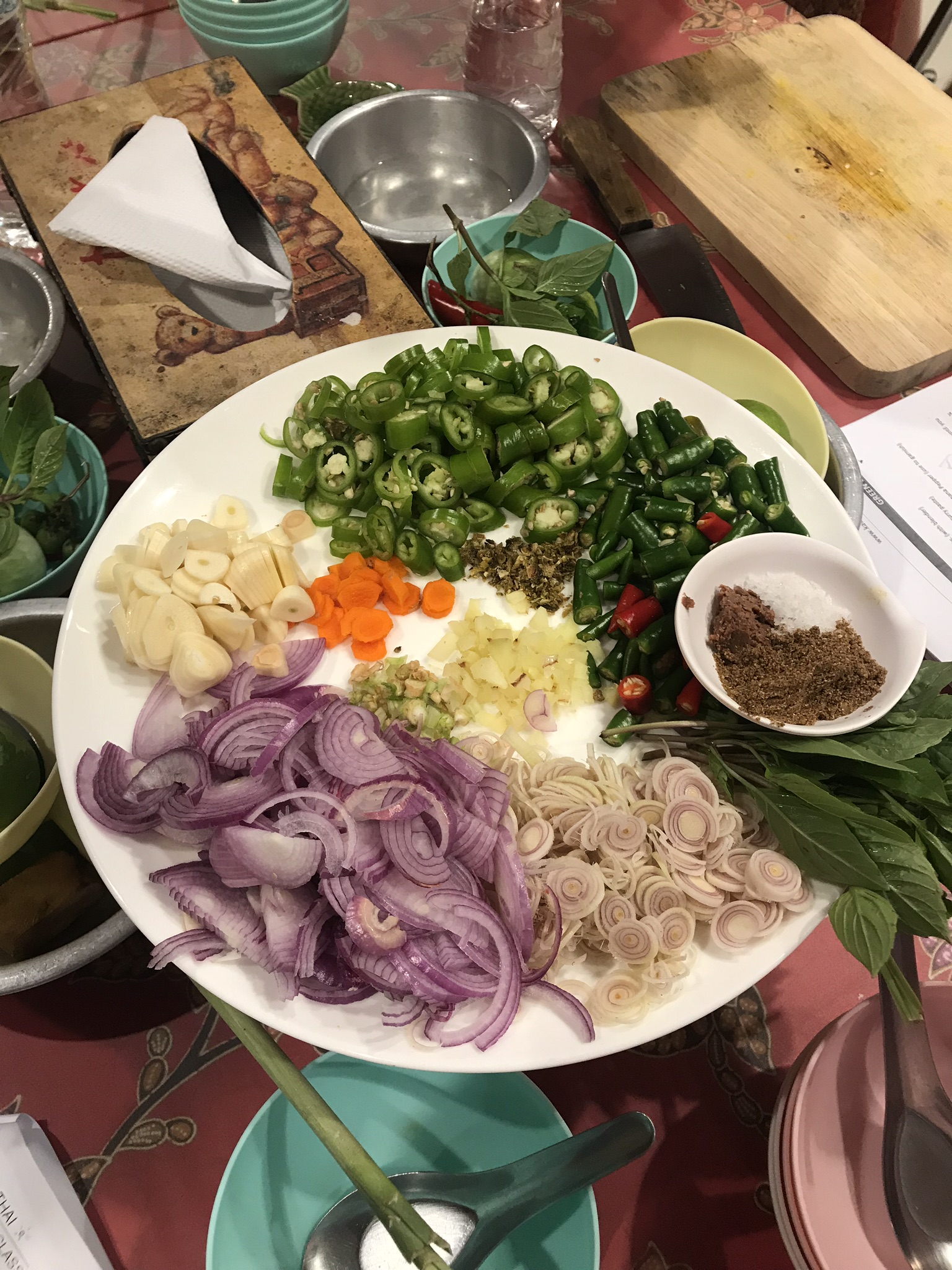 4. Parasailing (Coral Island)
5. Feeding and bathing the baby elephants
6. EATING the street meat. (Make sure that your cold items are submerged in ice.)
7. People watching on Bangla Road
8. Watching live entertainment at the weekend market.
9. Watching the sunset at the beach.
10. Get clothing made or tailored.
Quick tips:
1. Withdraw money from the ATM in the airport.
2. EVERYTHING is negotiable. All of my excursions were 30%-50% off the advertised price in brochures. My hotel arranged everything for me. My excursions included travel to and from my hotel. Some even included lunch. ( The cooking class, I arranged transportation through the Kata Thai)
3. Bring your own water shoes and snorkel gear. (I didn't find snorkeling to be that great in Thailand) It was relaxing to just hang out in the ocean though.
4. Do not feed the monkeys. Access to Monkey Beach is now cut off bc too many people were feeding the monkeys things that they can't handle. (Think edibles)
5. If you plan to get clothing made, go on day one. I waited to the last minute and couldn't squeeze it in.
6. The fish pedicures are everywhere. Be brave if you want BUT there is no way for them to clean the bowl between customers. Everyone was sticking their dirty feet in the water and the fish ate the dead skin off. Yuck!
7. I felt safe at all times. But I heard Bangla road gets a little crazy after midnight. I didn't experience that.
8. The best street food is on Bangla road. There is a section with mainly food vendors. It's says "street food" on the sign. You MUST eat here. $6-$8 huge lobster tails, the best Pad Thai I've EVER had and the garlic shrimp?! Omg…amazing.
9. The Tuk tuk drivers will try you. Be firm and tell them exactly where you need to go and get a price before you get going.
10. There are no washcloths and the beds are pretty firm in most hotels in Thailand. Do your due diligence in searching for soft beds.
11. The beaches were very crowded. I found Coral beach to be the quietest…
Overall, I highly suggest visiting Thailand. It's so rich in culture, relaxation and amazing food. The only thing that got kinda awkward were the people staring. Many people hadn't seen black people before. There were some moments where I felt like a fish in a fishbowl but it wasn't too bad.
If you've gone or have questions, please ask away in the comments section.
xoxo…
Love,
Nikki Lee